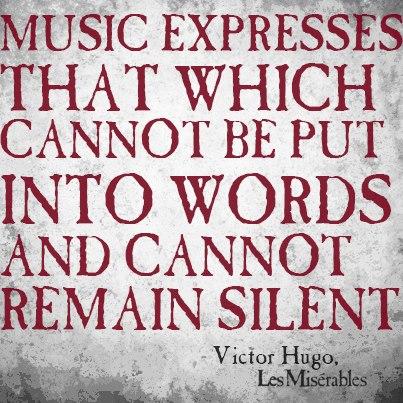 Ruthie Henshall as Fantine performing "I Dreamed a Dream" for the Les Misérables 10th Anniversary Concert at London's Royal Albert Hall, 8th October 1995.
Music : Claude-Michel Schönberg . Lyrics : Herbert Kretzmer. Libretto by Alain Boublil based on the novel by Victor Hugo
[Fantine is left alone, unemployed and destitute.]
[In 1992, at the age of 25, she was cast as:
 Fantine in Les Misérables.]
There was a time when men were kind
When their voices were soft
And their words inviting
There was a time when love was blind
And the world was a song
And the song was exciting
There was a time
Then it all went wrong
I dreamed a dream in times gone by
When hope was high
And life worth living
I dreamed that love would never die
I dreamed that God would be forgiving
Then I was young and unafraid
And dreams were made and used and wasted
There was no ransom to be paid
No song unsung
No wine untasted
But the tigers come at night
With their voices soft as thunder
As they tear your hope apart
And they turn your dream to shame
He slept a summer by my side
He filled my days with endless wonder
He took my childhood in his stride
But he was gone when autumn came
And still I dream he'll come to me
That we'll live the years together
But there are dreams that cannot be
And there are storms we cannot weather
I had a dream my life would be
So different from this hell I'm living
So different now from what it seemed
Now life has killed
The dream I dreamed.
 H/t HX264 So so heart wrenching. RH sings this song so brilliantly.
pommierfleuri in comments says:

I watched all the performances of that song that I could find on YouTube and I find that Ruthie Henshall's is the best. No one else expresses such a wide range of emotions, moving gracefully from one to the next. Each time I am moved to tears.
A great actress and singer!
I concur with this sentiment. I can't understand why there are so many "dislikes". This is such a powerful rendition.
I was reading up on Ruthie Henshall (via Wiki) – who's from Epsom, Surrey. I saw that she's been through a very tough time in her personal life, with the loss of a sister in San-Francisco, through drugs and child abuse from the age of four years old.
Stage star Ruthie Henshall has spoken of her former secret relationship with Prince Edward, which often involved being "smuggled" into the Royal palace.
Read the rest at BBC News here.
I was talking to a person in Rathmines, yesterday, about going to see the film, and we got into a great conversation. She said that she has already booked two V.I.P. (plush, leather seats), which includes free pop-corn and drinks (2 bottle of wine.) to boot. She reckoned it worked out far cheaper in the long run than just paying for the standard ticket. I must get feedback from her. V.I.P. tickets are obviously geared around couples or parties of people. The jeweller also saw the 1998 Broadway stage show. So she is a real fan. I remember watching it in subtitles in film. I also liked Colm Wilkinson in the musical. Like Ruthie Henshall, he too has such a powerful voice.