Kathleen O'Malley confronts the painful legacy of her hidden childhood in the second programme in the six-part documentary series Flesh & Blood. Exploring the silent tragedies behind six extraordinary lives, Flesh & Blood asks to what extent we are controlled by the secrets of our past.
Kathleen O'Malley is now a successful and happily married Court Magistrate, living in the UK. But for years she concealed the terrible secret of her Dublin childhood: at the age of just 8, Kathleen was sexually abused by a neighbour, and infected with gonorrhoea.
It is, as Vincent Browne says, a "story of particular horror." Punished by the state for a crime of which she was the victim, the young Kathleen was removed from her mother, along with her sister, and sent to an industrial school in Moate, Co Westmeath. Held there until she was 16, Kathleen rarely saw her mother, and their relationship never recovered.
Kathleen fled Ireland at the first opportunity, building a new life for herself in England. With an exciting career as an Elizabeth Arden beautician, Kathleen travelled the world, mixing with the rich and the famous. But burying her past in the midst of this new and glamorous world, Kathleen carefully constructed a fictional life based on an idyllic childhood in Ireland.
It was only years later, in a painful turning point, that she decided to confront her past, and vindicate her mother once and for all.
"Ireland robbed her of her children," says Kathleen of her mother, "and destroyed her." The result of over ten years research into her painful past, Kathleen O'Malley's memoir Childhood Interrupted was published in 2005, and forms the basis of this second programme in the Flesh & Blood series.
Related book:
"Childhood Interrupted: Growing up under the cruel regime of the Sisters of Mercy" by Kathleen O'Malley. Published by Virago Press. ISBN 1 84408 117 6. © RTÉ 2012
Kathleen O'Malley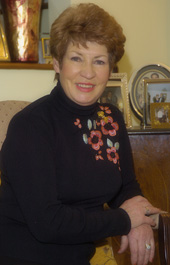 In 1950, Kathleen O'Malley and her two sisters were legally abducted from their mother and placed in an industrial school ran by the Sisters of Mercy order of nuns, who also ran the notorious Magdalene Homes. The rape of eight-year-old Kathleen by a neighbour had triggered their removal – the Irish authorities ruling that her mother must have been negligent. They were only allowed a strictly supervised visit once a year, until they were permitted to leave the harsh and cruel regime of the institution at the age of sixteen.
Pic courtesy of Sunday Mirror
But Kate survived her traumatic childhood and escaped her past by leaving for England and then Australia when the British government offered a scheme to encourage settlement there. Fleeing her past again, Kate worked as a governess in Paris and then returned to England where she trained as a beautician at Elizabeth Arden. She married and had a son. A turning point in Kate's life came when she applied to become a magistrate and realised that she had to confront her hidden personal history and make it public.
Click here to enquire about Kathleen.